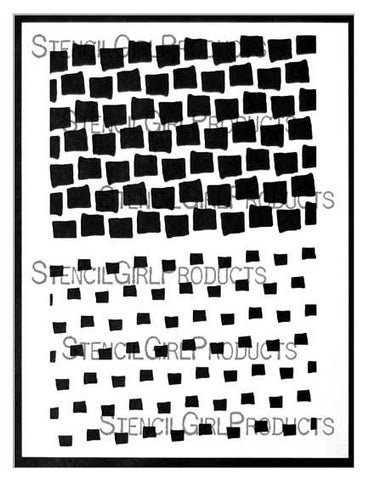 Stencil - Squares Layer Me
SKU:

Squares Layer Me was designed by Carolyn Dube. This loose pattern of large and small hand drawn squares is a must-have addition to your pattern making stencil collection. Each of the two patterns can stand alone, but they also layer together perfectly giving you three patterns from a single stencil. But wait, there's more! Position the smaller squares up, down, on the side, or right in the center to create a variety of patterns. In the orange and pink sample you can see how it looks positioned down on the side.
This pattern lines up extremely easily, so you can fill any size paper you can imagine!
The Layer Me Collection contains stencils with two coordinating patterns. Use each pattern by itself or layer one on top of the other to create complex looking results quickly and easily. In the example above you can see each side used alone and how they look layered together in the center.

Product Details
9" x 12"
7 mil mylar stencil that is thick enough to be durable and long lasting, yet they are think enough to provide a seamless look in your art.
Made in the USA.
---
We Also Recommend