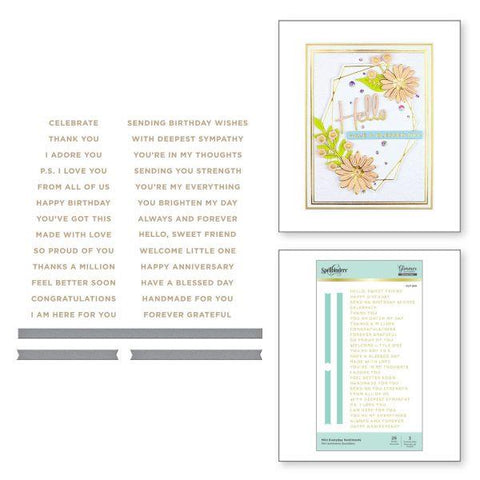 Hot Foil Glimmer Plate - Mini Everyday Sentiments
SKU:
Mini Everyday Sentiments Glimmer Hot Foil Plate & Die Set is part of the Glimmer Essentials Collection. There are 26 sentiment plates that cover many different occasions from friendship to celebration to love. Also included are three different widths of sentiment strips dies to cut from.
Glimmer Hot Foil Plates add stunning foil accents to any project from cards to mixed media and more. They are designed to be used with the Spellbinders Glimmer Hot Foil System (or other compatible hot foil system). Foiled Elements can also be added to various materials and thicknesses with your Platinum Die Cutting & Embossing machine and more.
Approximate Size:
Large Strip Die: 6.00 x 0.26 in./15.20 x 0.70 cm
Medium Swallowtail Strip Die: 3.25 x 0.26 in./8.30 x 0.70 cm Small Swallowtail Strip Die: 2.5 x 0.26 in./6.40 x 0.70 cm
Sentiment Plates (26 pcs): Range From 1.19 x 0.13 in./3.00 x 0.30 cm to 2.94 x 0.13 in./7.50 x 0.30 cm
---
We Also Recommend