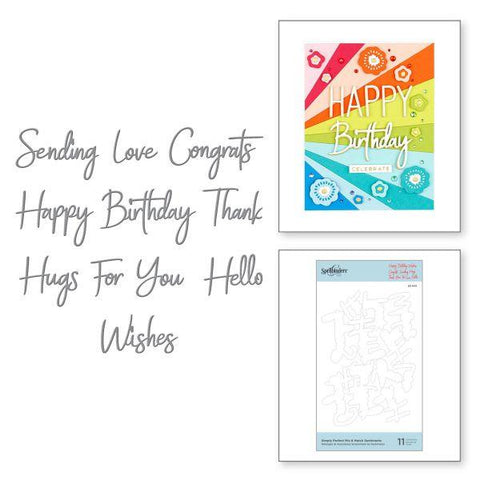 Dies - Simply Perfect Mix & Match Sentiments
SKU:
Simply Perfect Mix & Match Etched Dies is part of the Simply Perfect Collection. This set of 11 thin metal dies includes in thin casual script font words of Sending, Love, Congrats, Happy, Birthday, Thank, Hugs, For, You, Hello and Wishes.
Simply Perfect Collection is just that! There are wonderful sentiments, alphabets, florals and more in a clean fresh style. It works with everything and its simplicity makes this ensemble perfectly timeless.
Approximate Size:
Birthday: 2.63 x 1.54 in./6.70 x 3.90 cm
Congrats: 2.62 x 1.52 in./6.60 x 3.90 cm
Sending: 2.29 x 1.51 in./5.80 x 3.80 cm
Happy: 2.13 x 1.61 in./5.40 x 4.10 cm
Wishes: 2.12 x 1.22 in./5.40 x 3.10 cm
Hugs: 1.60 x 1.58 in./4.10 x 4.00 cm
Hello: 1.67 x 1.35 in./4.20 x 3.40 cm
Thank: 1.65 x 1.06 in./4.20 x 2.70 cm You: 1.22 x 1.32 in./3.10 x 3.40 cm
Love: 1.21 x 0.93 in./3.10 x 2.40 cm
For: 1.22 x 0.92 in./3.10 x 2.30 cm
---
We Also Recommend